BEST TIME TO ASK FOR APP REVIEWS
If you are asked to assess a book you have never heard of till now, what will be your answer? Chances are you will refuse or write a negative review. Normally this question should be put later when a person has already taken the guts out of the book. However, frequently I come across applications requesting me to write a review within the first several minutes.
Newcomers are usually tolerant. Any false move will be costly for them. As a matter of fact, ninety percent of users remove an application having tried it once and only once.
Nevertheless, it is necessary to ask users to write a review or to give rating to your application in the app store. There are users who rate apps of their motion. But there are few of them. More often, users should be pushed to assign rating or make a review of your app. Otherwise, it will never appear in the result list, and you will miss your prospective users. Whenever you request users to rate an app or to review it, sometimes is required they could get into the swing of things. They'd rather get up an appetite for it. Let them play with your app. Do not hasten them! Excessive pushiness may result in bad reviews and ratings.
You should ask users to write a review only if they have already grasped the core sense. So and in no other way it does make sense to request rating. Otherwise, you will get negative or unconstructive feedback.
If you want to achieve and keep top ratings in the app store, you should guide your users and never hasten. For example, you have created a social media app, let your users find friends, leave messages, upload images and video before asking for a review. Don't ask people to assign rating to your app, if they never tried it.
If your goal is to improve the app, think of a strategy. It's a bad idea to ask users describe their problems in their review. Give them a possibility to explain the confusion privately. It's not necessary to show all bugs if any to the public. Interaction with such users will be beneficial for you. You will be able to improve your customer service.
And one more important issue. Do not focus on one star and five star ratings. They are mostly useless and "empty". Pay attention to two star and four star reviews. They usually contain sound criticism. You will find out how to improve your app since such users describe what they like and dislike.
1) Record a video presentation.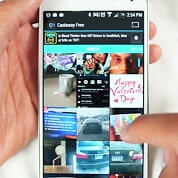 A video presentation is the best way to demonstrate all features and functionality of a new app. You'd rather make a dynamic b-roll show a workflow. Today there exist lots of user-friendly video making tools. For instance, SimFinger. It allows making top quality screenshots. And it's free.
2) Build the brand awareness.
You'd better prepare comprehensive content for promotional and marketing support. It could be images, logos, visuals, and advertising clips. Be sure, they will be very helpful for social media marketing campaigns and press releases. Moreover, all these data should be easily accessible for all people who will decide to review the application.
3) Organize a sneak preview.
If there is a possibility, why not to organize a sneak preview of your mobile application for several movers and shakers. Before actual launching date, let them try the app. As a matter of fact, you will just simplify their work. Movers and shakers will prepare a better review of your product and that will play into your hands.
4) Involve mass media.
A successful marketing campaign should start long before actual launch date. So, your task is to do your best to involve the press and bloggers who can highlight your application release in the best possible way. You should provide all mass media agents with accurate data about the application release. Let public find out about your product via all possible media channels.
5) Prepare SMM campaigns.
Today social media promotion is the most popular type of advertising. Try to build a community around the app since actual startup. Use all social media platforms. Make corresponding posts and tweets several times a day. If it is possible, involve other users to repost or retweet your app. Social engagement is truly effective.
6) Prepare app store optimization strategy
App store optimization or just ASO is considered the most efficient app promotion method. You should work out a comprehensive plan to succeed. Think of a recognizable title, a striking picture. Prepare a review with search words and create top quality screenshots. App promotion is as important as its building.