How Can Incentive Traffic
Bring Your Targeted Audience Aboard?
In this topic, we want to discuss one more opportunity to increase your app installs and keep retention high. If you know already, what the incentivized traffic exactly, you may be frustrated a little, but just continue reading – we will explain the whole scheme step by step.
What is Incentive Traffic?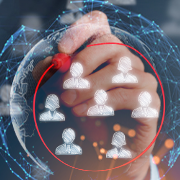 There are many traffic sources and ways for making your app installed, but the main segmentation in-app advertising happens in two-separated direction: incent-, and non- incent traffic.
When we spoke about your social media, about well-made ASO/PSO, or even about your blogging, targeted ads, in-app marketing, and other stuff – it all called non-incent traffic. So, in a non-incent thing, your potential user will decide by himself about installing your app. In addition, he won't get anything, except your application and his experience, by doing the conversion. His will for installing your app is free and the main milestone for his decision: is your app looks suitable for his needs and interests.
For incent traffic, also known as motivated traffic, the main thing is what I will receive for installing the application? From the naming, we can make a conclusion: an incentivized user will always gain something for making a conversion. For example, he can earn real money, or in-app bonuses/ paid content, or some other material or non-material reward. But the key-point is his motivation: he is going to install your app not just because its good and looks interesting for him, but mainly for some kind of reward.
By moving further, we can make a decision, that retention rate for incent and non-incent traffic is different. If there was no reward – the user will keep your app on the device until he like it, but in another case – he will delete it as soon, as he fulfills all the requirements. So, we have the main question here: according to that info, why do you need incentivized traffic, and do you need it after all?
Role of Incent Traffic in Your App Advertising
If the retention rate is actually low, and there is almost no active engagement in your application, why do you need to incent traffic, after all? The main point is simple: it helps you to reach top-charts faster. As we both know, the more installs per day you are getting on your application – the more popular it looks in Google or Apple "eyes", and the higher app positions will be. For example, if the competitor of yours is gaining 1000 installs per day for his application, but you receiving only 50 – his app will be higher in search results.
By improving the search algorithms, another factor took a place – the engagement. It means that ordinary installs per day cannot help you more, but users' actions in-app still can. So, moving back to the incent traffic – it has evolved from ordinary "pay for installing" to "pay for doing something X times during Y days in the application", so you can maintenance whole user's engagement.
We told you, that the retention rate for incentivized traffic is low and you cannot bring your native users to use your app – but this thing is fixable and depends, how many are you ready to pay. If you are a person, who wants to control the retention rate and focused on reaching top charts with your app – you shall think about bringing motivated users aboard.
As a conclusion, incentivized traffic is something like a great tool and depends on a reward-boosting attribute, therefore if you have enough money or other type of reward – you shall try to use it. Beware: usual cost per install (CPI) does not work now, and we recommend accenting your attention on cost per action (CPA) campaigns, or even buying keyword installs. According to our surveys, the next features works well for both new and mature applications:
Keeping on the device: 3 months
Retention rate – 3-4 openings per week during all keeping time
Engagement or action points: up to 7 clicks or window openings per one app séance

Pros and Cons of Getting Incent Traffic
Now you discovered, what is incent traffic in long-scale meaning, and you can make your unique decision regarding buying it. We prepared a compare sheet, where you can see all benefits of motivated traffic and ordinary app advertising.
| Benefit | Incent | Non Incent | Recommendations |
| --- | --- | --- | --- |
| APP Positions growing | Fast | Slowly, organic | Choose your strategy correctly - if you need users inside the store, make it fast! |
| Pricing | Cheap | Costly | Make an accent on your goals, and then think about costs |
| Can be keyword/based (keyword installs) | Yes | No | For iOS - much better to buy keyword installs, Google don't cares |
| Can be scheduled and easy to maintenance | All | Partially | Use limits per day for both - it will be enough |
| High Retention Rate | Depends on costs paid | Depends on users behavior | For Playstore - Retention matters, so incentivized traffic recommended |
| High Engagement Rate | Depends on costs paid | Depends on users behavior | The same thing - engagement statistics are important |
| Your targeted audience aboard | Very poor | Yes, exactly | Think which is better: be top-1 and attract your audience, or make them through other sources |
| Can be monetized/sold to 3rd-party institutes | No | Yes | Your native traffic can be sold, you can put ads, but your incent users will never click it |
| Users can make a review | Depends on costs paid | Depends on users behavior | If you want to get guaranteed 5-star reviews - you shall think about incent/paid options |
Now you know more and can decide which solution is suitable exactly for your application. Moreover, we hope that from now you will be able to choose best tools for your app promotion. In addition, our ASO specialists can check each of your unique cases.