7 USEFUL TIPS TO INCREASE APP DOWNLOADS
You are happy to create Android-based mobile application. You have done a great work testing it and making sure that your product is running properly so you can be proud your creation is about to be incomparable. As long as publication is done, you apply social media to share your app among its users and you definitely feel you are about to be on top.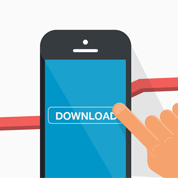 But soon you discover that your app does not bring much downloads, just a few with no feedback. You cannot understand what did you miss. You become desperately spam about it to all your friends and acquaintances with all possible means. But you still no expected results can be observed. You definitely need a help.
The following points are called to help developers to boost the download amount without irritating your friends from social networks.
1) Localized Descriptions.
Prepare quality, full description of your application and post it on the app market page. Your prospective users will surely read it, and it will positively affect your application rating. Make wise time investment.
Language
Do your best in order to localize app description, translating it into common tongues like French, Chinese and so on. For now some Google Play developers still have an opportunity to provide automatic description translation applying google translate. Nevertheless, such transformed texts may contain stylistic mistakes, so you would better to correct Google's results.
App Store users can prepare their own translation, applying other translation services, as well as browser version of Google Translate.
Keywords
To target you application, create a list of keywords for this. For example, for app with the name "Funky Camera Tricks" you can use and repeat several times in your description such keywords as 'camera', 'tricks' and 'funky', but do not forget to implement them wisely.
You can apply Adwords Keyword Tool in order to find and use some synonyms for your existing keywords. Such action can increase the chances for prospective users to bump into your app in the search results with the similar words. Your description should be optimum one, of a proper length with a reasonable number of keywords.
Highlight Needed Allowance
Point out allowance requests of your application, which may occur during installation. Users face them in any case, so it would be better to warn them about it beforehand. Provide a clear and full list of your app's specifications and be honest about monetizing sides of the product.
2) Create a Video clip
Video presentation of your application is essential. In order to do this, apply professional assistance with a good reputation and lovely portfolio. There numerous agencies, which are experts in clip-making activity.
Localize your video with the help of subtitles. Find some finances for proper translating for the languages of the target market areas. And you will certainly experience its benefits.
3) Restricted Discounts
In order to win users' interest you can propose a free or a half-price trial period. There are services which help the developers to advertise their app via other applications, with mutual benefits for developers and publishers.
4) Tell the world about your app
One more tip is an implementation of the press release assistance. There are numerous services which provide such kind of help. Spread you press release via such services.
Do not neglect small blogs reviews, even if you have already applied similar services. Medium-sized publishers usually glad to discover new application and shout out it for some period of time which brings more traffic.
Apply the help of even smaller blogs, as they must be glad to publish your app info. It would be nice of you to create unique stories for each of them in order to create a respectable collaborating atmosphere and provide publishers with the original content.
5) Pay attention to users
Analyzing users behavior may be quiet useful in order to maintain your high amount of active users. You surely require more installs. A well-conducted analysis can supply you with a vital data, which you could use in order to improve your apps, to compare their pros and cons, track the user in-app activity and identify possible reason of removing the app. You can be able to test you app features as well.
6) Create a cover picture for Play Market
It may sound like a not a big deal, but you should not underestimate the value of the app cover pic. Use this information and act wisely. A cover pic surely can attract downloaders. Make efforts to create an original image, and one more for screenshot. Make sure your pics look good and bring a good impression on your product.
6) Professional real screenshots
Screenshots of your application must be clear, tidy and perfect-made as possible. For example, you can make some quality photos of the person while he or she is enjoying your app on their device. If your target audience is children, make a picture of a kid who is engaged with your game. For business applications it would be better to photo some man who will look like respectable businessman. The good app visibility is essential as well.
The aim of the screenshots is to perform your app in active condition. It would be preferably to make from 3 to 6 different pics in order to perform various app's features.
Conclusion
Apply tips mentioned above and develop you app activity and gain as much downloads and conversions as possible. It also should be mentioned, that the quality of your team is essential as well. With a talented crew each of the useful tips from this article can be implemented properly, despite the difficulties, connected with this process.