GOOGLE PLAY STORE HACKS
The whole app market recognized the head-breaking importance of app optimization. if you bring "ASO" in your browser – you will be stunned by tons of info inside the web. We want to speak with you about some inner ASO tricks for Google store, so let us start from the beginning.
Optimization is not only important for iTunes Appstore. – In Google Play, ASO is even more important. Yeah, the term is the same, you can also hear PSO (for Play Store Optimization), which is used lesser, neither Play store ASO does. However, dudes from Google are always one-step ahead, in case of that you can feel lack of info and even be frustrated by unknowing play store hacks. However, do not worry – we bring aboard all the fundamental basics, so you will dive into Play store optimization easily after reading this article.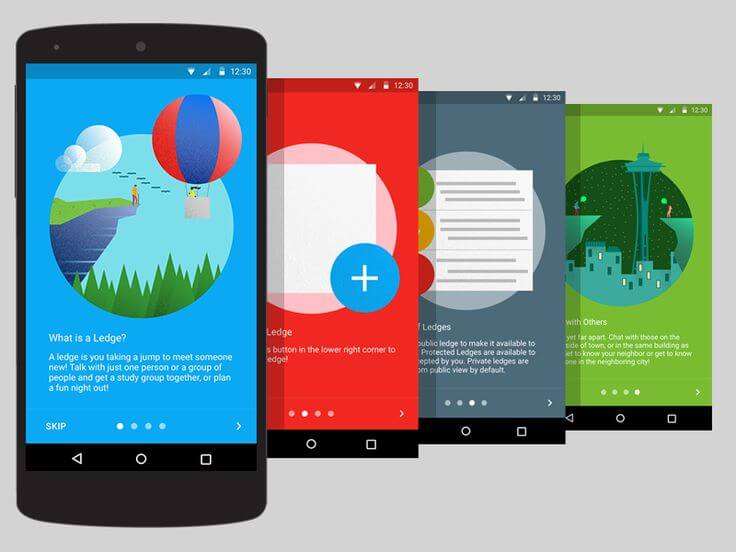 HACK 1: SUIT APP – VISUAL UX IS YOUR CHANCE OF GETTING CLOSER TO YOUR USERS.
Search algorithms, mechanisms, and Google crawlers can wait for their turn because there is the most important thing – your user experience. His first meeting with your app will happen through his eyes, don't forget about it. Your app should be attractive, easy to understand, and suitable for users behavior. Visuals – is the fundamental thing of your app first impression, moreover - the easiest way to dive into the specifics before downloading. Therefore, Google guys included the UI/UX importance even inside their checking/approval algorithms, so if your app is performed for perfect user experience –you'll be pushed up to the top of search results. In our personal opinion, this is not the only right way to fight against spam and poor-made apps, it is also a good competition to make users happy – Play store robots think in that way too. Regarding this, if you will make your users happy from the beginning with your shiny design – it will be a good movement for your android app.
Beware, that you need not only catch user's first impression – you need to make him open your app; choose exactly you from the apps on his/her device. Be attentive to your visuals – and you will succeed.
HACK2: MORE ABOUT THE FIRST IMPRESSION WITH YOUR APP TITLE
After setting the proper design, let's think about the context within. The most important for both users and robots words lies within your app title – this is your app name, after all. For Google spiders – its shiny piece of the pie and they will eat all you write inside the words field. Make attention, that you will include your main keyword along with brand name nearby not only for connecting them but for making app search easier too.
Do not forget to use some keyword planners, check your keywords effectivity and pick exactly what you need for your further competition. There are many tools on the web, so we sure that you can find suitable for you – if we are wrong, please ask Johan for suggestions.
In addition, do not use special characters always test showed result – otherwise, your App URL will look weird and non-professional, Google does not accept some symbols and charsets. Think more about your ASO, just like about ordinary web SEO, when you performing your app name.
HACK #3: EXPLAIN IT PROPERLY WITH YOUR SHORT DESCRIPTION
About the context –your short description matters too, and its placed on top-2 indexed things. Moreover, users will see it, when they are supposed to choose, which app to install now. In that case, you need to use your main strong keywords along with a proper explanation of your app purposes.
For which purposes your app? How can it help your users on daily basis? You can also use call-to-action texts here, but one more time – do not forget about your keyword within. For example, "start your dating today!" will suit you well. In addition, you can analyze your competitors to make the short description catchier
HACK #4: DIVE INTO THE APP WITH THE LONG DESCRIPTION
Next step in your PSO success – your long description, and you already know why. From one side, its source of your strong keywords for the Google and it's indexed too - so be sure, that you will include them in your description properly. In our experience, placing 4 keywords per 1000 symbols – it is a good solution, but the main priority is to make your text readable and user-oriented. Going back to the previous hack, Google appreciates user experience and user-related content, so it is your customer, who matters even for robots.
Therefore, on another hand – your long description should be readable and easy-to-understand, moving your targeted audience to install exactly your application and use It on daily basis. Make sure, that you will explain all app features, purposes, and positive sides by using fluent language and explaining words. Also, do not forget to use marked/numbered list inside, separate articles, and other stuff to make it all readable.
Accent it on the conversion too – use some marketing strategies for making your description useful. In addition, you can highlight your most important keywords within the description and make them catchy for user's eye.

HACK #5: CATCH THEM WITH THE SCREENSHOTS AND HOLD WITH APP VIDEO EXPLAINER
Regarding last Play Store updates, those tools are ones from the most important section. As you know, you can show, what your app about, by using screenshots of different screens. Its good way to dive into the app before installing and playing it, so your users will appreciate that. Moreover, Google guys keeping their eyes on visuals, as we told you before, so the higher quality of them you have – the more chances to be featured you gain from the Play Store itself.
You can bring up to 4 screenshots about your app, and please – optimize them! It is important to think about every user you have, so do not forget to test sizes on different devices before publishing your app. About video – it's much simpler, because it came from YouTube itself with proper integration. However, the more testing you do – the more success you gain, so just check every part of the visual content you uploading.
Perfect video length is up to 40 seconds, but A/B testing is an important thing, feel free to test, along with screenshots – and you will be on the winning side.
HACK #6: RISE YOUR TRUST AND SHOW APP FROM BEST SIDES – APP REVIEWS AND RATINGS
Last hack, but first thing in Google promotion - your average of ratings and user's reviews. The more 5-stars you have – the higher your app will be in search results, moreover – each new user reads feedbacks from others to collect his picture of expectations. Therefore, it is important to have well-made reviews and good Average
For example, the app with 4.0 will be trusted more, than the app with 2.8, and everybody knows that. As for Google itself, your content of reviews matters too – the keywords within are also indexed, and the fluency of written texts makes the machines build their own opinion. In that case, we strongly recommend you to collect feedback from your users daily, give your professional answers and never stop with your app improvement, moreover –you can also build your reputation from getting your reviews from professional app reviewers, for example – from us.
Also, it's important to make your app reviewed from the outer sources too – you can use blogs, post some press releases, ask technical forums for help and even publish your app inside the apps competition lists – backlinks works for Google well, as we know, so the more of them you have – the higher you can get in total.
In total, you need always think on both inner Play store reviews and outer blogging to make your app well reviewed.
As a conclusion
Now you have all the necessary milestones for moving your app higher. It can sound easy, but when it comes to actions – each hack takes time, money and patience to be realized properly and used in the correct manner.
Be sure, that your design is catchy, well made and users-oriented;
Include proper keywords within your app title, avoid any symbols, and think about context firstly;
Use call to action with your strong keyword within the short description;
Create long description, which can describe your app perfectly and can be understood easily
Test your visuals, including screenshots and video explainer, and adapt them for all users
Rise your rankings; make your app reviewed in Play Store and out of it!
In addition, always improve your app – you made it for the people, remember?