HOW TO CONDUCT APP STORE KEYWORD RESEARCH
Every successful promotion campaign is built on a correct usage of App Store and Google Play keywords. This is a crucial element of every prominent app promotion strategy. Apple provides a highly functioned mechanism of keywords adding and usage, thus every user gets a chance to promote own application to a wide targeted audience. Google mostly generates keywords using your application description, while Apple provides an entire platform for keywords research. The process of selection and research of keywords remains an important part of every promotion campaign at App Store. With all the instruments provided by Apple, all developers, marketers, and owners of mobile applications can easily conduct a profound keyword research and optimization processes performed in a few following stages.
SUGGESTING KEYWORDS
The process of keywords suggesting is the first step in every application promotion campaign. It must be performed carefully to provide optimal words and phrases eventually. At first sign, it seems important to use words and phrases linked to your application. In fact, it is more convenient to select certain phrases and words, which users may prefer to use while looking for a needed app. It is quite useful creating a few different scenarios with keywords and test them for their efficiency before providing app's description.
The Internet is full of advanced tools and programs aimed at helping with keyword app research:
SeedKeywords;
AppTweak;
App Annie;
These advanced research tools allow selecting the most proper keywords through search engines queries. They bring an opportunity to discover the exact keywords related to your application description or to your competitors' research results. It gives additional information on how to choose main keywords and phrases correctly.
ARRANGING KEYWORDS
After suggesting keywords, you should already have a complete list of decent keywords you must arrange properly. Since Apple limits a keywords field to one hundred characters and Google Play has no single field for keywords at all, arranging your keywords is obligatory. Arranging your main words and phrases remains a complex process of sorting every keyword due to its power and inclination. This optimization of offered words and phrases is aimed at selecting and ranking first the most demanded and workable keywords.
In order to conduct a proper optimization process you need to follow the next stages:
Weigh a word or phrase counter to your app's content;
Weigh a word or phrase counter to the customers' search queries;
Compare your keywords with ones used by your opponents.
It is important to check every word and its form to provide the most suitable keywords.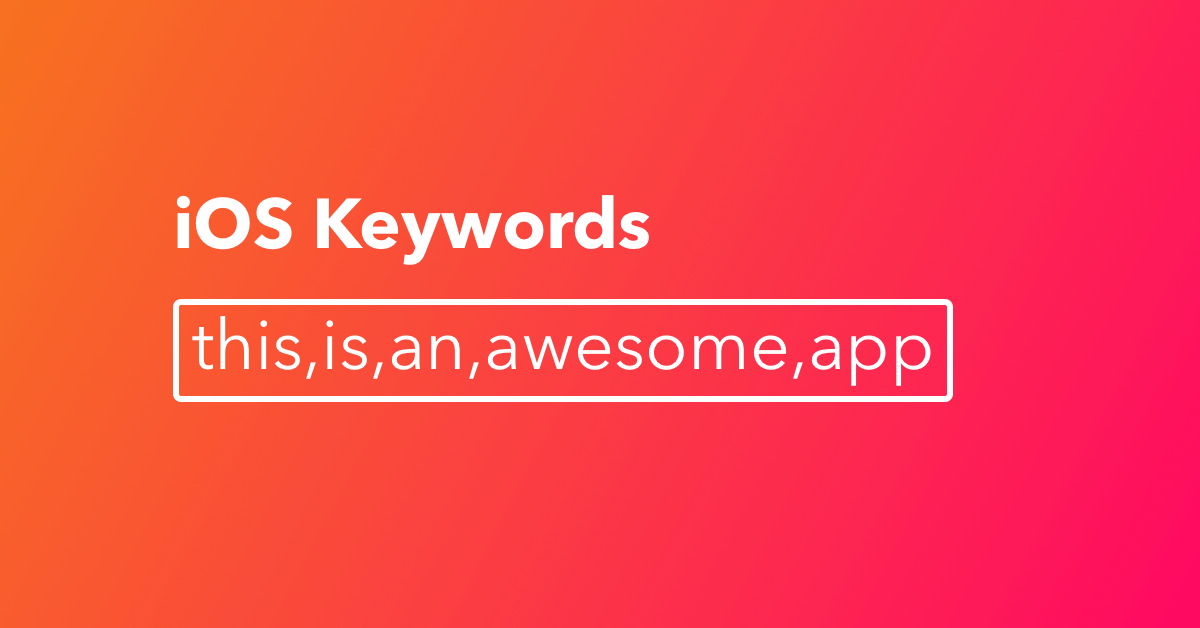 COMPETITION AND OPPORTUNITY
The last stage of the App Store keyword researchesan evaluation of the chosen keywords in order to discover the most viable words and phrases that must be used in an app promotion campaign. Competitiveness of the keywords is quite an essential characteristic since it shows the chances of every keyword being found by users.
The following additional research tools can be very effective for mentioned purposes:
Mobile Action;
AppCodes;
SearchMan;
Tune;
AppTweak;
App Annie;
AppRadar.
Each of the tools cited offers own research instruments and solutions beneficial for keywords research process. The tools allow calculating Keywords Efficiency Index, Search Score, and a total number of applications that use familiar keywords. Your key goal is to choose a variety of the keywords with higher possible search volume and lower competition rate.
CHECKING RANKINGS
Checking rank of a certain word or phrase is important in order to monitor search score and accurate competition rate of your keywords. Most of the tools mentioned in the article allow conducting iOS keyword research and analyzing keyword performance, including KP analysis through various regions and countries. It allows checking properly the target audience and sticking to your app promotion campaign's core goals. Tracking your opponents and their rankings allows staying aware of the way they used to rank specific keywords. The improvement of the rating is a greatly illustrative characteristic, which allows keeping only the most workable keywords in App Store or Google play keywords field and change words and phrases with low ratings with another, more accurate, keywords.
IMPLEMENTATION AND OPTIMIZATION
With prepared keywords, it is a time for implementation of results and further optimization. You may create your description basing on arranged keywords to place on both Google Play and App Store.
In keyword field presented, type your best workable keywords using the following tips:
Check the 100 characters limit, avoid too many spaces;
Detach the keywords with a comma, never use a space;
Use both singular forms of a word and plurals;
Do not duplicate a word, use digits instead of words if needed;
Do not duplicate a word from your app name.
When you have discovered that definite keywords ratings were improved and others have remained unchanged, it is your great opportunity to change bad keywords with other ones. This will give you more chances to conduct a successful and highly efficient app promotion campaign.
Keywords research and optimization is a complex multitasking process that requires time, knowledge and attention. It is important to select the most reasonable keywords, analyze their rankings and check keywords' improvement constantly. In case of unchanged core words and phrases or low ratings, your keywords may need additional optimization.
Our company offers a wide variety of top-notch online services, which allow clients enjoying only wonderful results, without paying time and efforts on keyword selection and optimization routine. With many years of successful experience, our team of experts is willing to help every app developer or marketer to conduct a proficient and well-promising app promotion campaign.