7 HOW TO NAME YOUR APP AND CHOOSE KEYWORDS
Over the half of the existing apps are discovered via search option on the App Store. Do you wish your product to be the one the customers find as well? The starting point is the choosing of the proper keywords both with the app name.
In this article we will disclose a few recommendations on how to select the name and keys for your application in order to post it on iTunes Store. It may not guarantee you the top places in charts, but a decent amount of installs.
Your application name and keywords are of all importance because we are discussing the SOE of the App Store.
There is no anything secret in this, but for starters it may be a problem. This article will disclose you how to improve these elements of your application SEO, which it is also called ASO, or App Store Optimization.
APP NAME SHOULD BE ILLUSTRATIVE
Your app's image and the name are the first things the prospective downloader sees.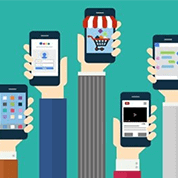 If your app is not a gaming thing, it should define it as clearly as you can. People want to view relevant, descriptive things in the first place when they look through the app list. Your application's name must be informative and describe the essence of the app.
It is significant to know that the application's name words are also considered to be keywords for App Store. And they are even more important in the searching process than actual keys. We do not recommend you just to list keywords in the app name but think about phrases of 2-3 words that people may use while looking for a particular application. It must be short as well since starting from the September, 2016 the Apple app name should contain less than 50 letters.
Considering this your main task is to find the golden mean between keywords and branding.
Apple made the URLs using app names. So there is a strong recommendation do not use any specific symbols in your application's name, for example, trademarks or copyright symbols, otherwise your iTunes page address will be created using your ID.
One more significant point is the originality of the name. You must not repeat the already existing names (fully or partially) in order not to make Apple flags and disables the particular keywords.
WISE SELECTION OF THE APP STORE KEYWORDS
In Apple Store you will have 100 chars for your keywords, use them wisely. Write every word separately using come. It is known that Apple deals with plural forms better.
In case when you see your key words are used too often, try to use synonyms or other words and word combinations that may be used for search. It is better to appear in the first 5 search results with medium-searched words than to be one of the hundred search results with popular keywords. And one more thing: if you want to avoid troubles – never use trademarks.
Using key phrases will not bring you any extra benefits, that is why it is better to compose phrases from the key words. For instance, "weather app" must be performed in the iTunes keys list as "weather, app".
DEFINITION OF THE PROPER KEYWORD
People, who may be unexperienced in ASO mistakenly consider that keywords with the highest search results are the better ones.
But it is far the less important thing you should take care of while selecting a keyword. Below you may read the list of keyword criteria in the order of their importance.
Suitability – Does the chosen keyword suits your product? What chances that the user finds and installs your application thanks to this word?
Competitiveness – Where do you want to be: #786 for a key with tons of searches monthly? You know the truth that hardly ever anybody scrolls that far in the list of apps. Your target is to get in the top 10 and you should prefer keywords that will put you there.
Searches – And it is the last important feature, which is recommended to use only when the previous ones is equal.
Every keyword is unique and has its own specifications which are considered in the defining of suitability, competitiveness and searches. Your task is to find out how to apply them in the selecting process.
PUBLISHER NAME
The name of publisher is important in the App Store search process as well. The phrases made from keywords in combination with names of developers can be a good search option. But you must be attentive in making the decision to use publisher name as a keyword as it may contain the app-specific App Store keywords.
CONCLUSION
You have only one chance to apply keyword optimization. So make it good testing and improve your list of keys.
You may give the particular keywords a trial period in order to monitor their results and the amount of installs and new customers. You also have to be aware of the changes and modernizations of the App Store.
Do not be afraid of experiments and you will definitely find the proper keywords and reach the highest places in the search results.