7 TIPS FOR HANDLING NEGATIVE APP REVIEWS
You've developed an application thinking it is the first step to international recognition and respect. Wait! Show the app to programmers and users to get the feedback from them. It will be the best evaluation of your idea, spent time and efforts. The considering our ambition we prefer to get only the positive comments. But in most cases the negative feedback is more effective showing the user's real attitude to you piece of work.
Here are some tips how to behave when receiving and analyzing negative comments:
1) Say thanks to author of negative review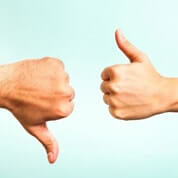 It is always more difficult to leave the bad opinion than the good one. Such review requires time, efforts, patience and, of course, desire to help the app developer to improve the code, functionality, performance or just interface. A user cares about your product, so you should respect him and pay special attention to his comments.
People who enjoy using your application will surely share it with their friends. It is a fine way to get new fans from different corners of the Earth.
2) Look at your app from the outside
Very often when people criticize our work, we start defending oneself. Here this is not a right attitude to the situation. You should not carry your point but try to understand arguments of app user having made the adequate conclusions. Consider the review as a favor but not as a personal affront.
3) Emotional state
When testing application different emotions make users pass their opinion on some negative features or strange interface. Ideas as to your product are worth of respect.
4) Admit the truth
Writing a negative review a user is disappointed and upset with your application. So try to understand his/her notes and update your app if they are logic and may improve your program. A user does not want to hurt your fillings but show the look-and-feel of the app. Just analyze the arguments and you'll see if they make sense.
5) Consider user's attitude carefully
Be sure some of the dissatisfied users are your prospective clients. There are cases when certain concession or bonuses can change user's ground and make him/her using your product every single day. It's in your hands to change frustration and dissatisfaction with loyalty and respect.
6) Listen
Feedback helps a user to remark on the quality, interface and applicability of application. Your comments and arguments may represent nothing to him. The best solution here is to listen, try to understand and sometimes ask different questions to be on the same page with a user.
7) Get benefit from each review
In spite of feedback character, it is important to use it wisely to get a maximum benefit.
Interaction between an app developer and user is really important. A good result depends on their close collaboration.