4 WAYS HOW TO PROMOTE YOUR APP
If you are planning to make a successful career in publishing business, you must be interested in different mobile applications.
One of the most problematic issues, one faces in modern publishing is how to promote an app on this market. Why? The problem is that you will have many competitors. So, the question is, how can you put your original app on the top of others? We have some advices for you:
1) Think of your strategy before launching the app.
You may think, the app itself is the fundamental basis on your path to success, but exactly the step- detailed marketing strategy will lead you to triumph. You should remember that design and promotion are as important as your product.
Best moment for developing your plan of promoting your app is while the design, slogan and name are being created. In case, you passed that time, as soon as possible afterwards.
Why has it to be that soon? This is an initial step because the way you introduce your app and the way it looks in the devices of customers is your key to success.
2) Profit by using advantages of app stores.
If you are asking yourself how to promote your app, we have the answer for you! Google Play and The App Store are just perfect platforms for starting your business. There no other such opportunities for development and promoting an application. And by the way, it is very cost-efficient (for free) and you place your new product directly for people, who can professionally value it, and for potential users.
These both platforms divide all apps in few categories. You are ought to be interested in the most popular and new ones. There is a right place to make a first and best impression about what you're offering. This is your one and only chance to test your marketing strategy.
3) Make your profit out of social media.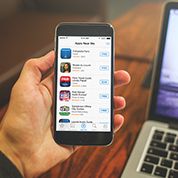 Thanks to social media the market had been changed a lot for the better. Everyone can find his own target customers. People are seeking for something new, unique and unusual. But it isn't that easy to promote your app here as well.
Using profitable advantages of social media is a quite serious trial on your publisher's way. Why is it so? Your main task is to be more creative than big brands. You have to offer something not only new and original, but also with some advantages famous brands don't have.
So, you have to develop a strategy of how to advertise your app wisely and paying attention to details. Don't forget, your target is to create an application that will be exclusive in its category and which will satisfy customers better than the one from a big brand. This is your key to successful social breakthrough.
4) Get reviews for your app.
The best thing about review sites is that you can read an honest opinion about your product. It allows you to see problems or disadvantages needed to be fixed. Such criticism isn't always pleasant, but it will help you to improve your product to a new level. Users also describe what they like in the app so you can monitor your potential market. That builds an impression about you as a developer and about your work itself.
Some important things to remember: make an easy way for reviewers to write a comment about an app. In case, it is complicated, customers may even not bother to write about it or worse—mention it in the review. Don't forget to write the name of the application, description, your company's name, a list of features and a link to app store.