15 WAYS TO HELP YOUR APP CLIMB THE RANKS IN
ITUNES
If you're an app developer or have taken part in the release of an application, you already know that the development of the app takes a lot of hard work. However, the next step is even more important. We're talking about making your app accessible to as many users as possible.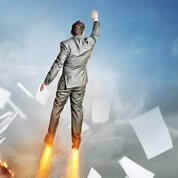 The recent study confirms that Android's market share is higher than the share of iOS, but store revenue of iTunes Store is still higher than Android's. At the moment there are over 1.2 million apps available for download on iTunes, so it's important for the developer to know the ways to make the work stand out. One of the key things any developer should pay attention to content optimization, which has been one of the most popular marketing tools over the years. A thoughtfully written app description helps users find your app faster. Keep reading to see 15 most effective ways to promote your app in iTunes.
1) Study similar apps.
Out of 1.2 million apps on iTunes there are likely a couple of apps similar to your creation. Of course, if your idea is unique and doesn't have any competition in the market, that means one less problem for you. Nevertheless, it never hurts to find one or two popular apps that use the same keywords as your app and inspect its description, especially keyword placement. Take your keywords, search them in iTunes, and see how the first several apps use the same keywords.
2) Pay special attention to the title.
Take this important step before your app goes public, as changing the name of the app once it's already available for download is a bad idea, since people already know your app by the previous name. Pick a title that corresponds to the most popular search terms in iTunes, making it easier for customers to find your app.
3) Work on your description.
After you've spent months designing an app, put extra effort into introducing the public to your creation. Creating a successful description means not only using the right keywords, but also using the description as a sales tool. The description should persuade the reader to download the app while also being informative and understandable. Make sure that the most essential information is placed at the top. Use a classic scheme while working on the description: first attract the user's attention by stating the problem your app is designed to solve, and then describe how exactly the problem is addressed.
4) Increase the effectiveness of your keywords.
If you've ever published an app in iTunes, you know that you can include your keywords not only in the description, but also in the special section designed specifically for keywords. Add as many keywords as you can, so that your app is more visible to the users.
5) Pick a good icon.
An icon is the first thing the user will pay attention to in the search results. The right icon should be eye-catching and do a great job of representing your app. You can find the tips on creating a successful App Store icon on Apple's website. A few features of a good icon include using vibrant colors, no overwhelming graphics and extraordinary shapes. Of course, size requirements should also be considered, but if you browse through similar apps and look at their icons, you're guaranteed to find inspiration.
6) Go for a global market.
Initially, a newly uploaded app will be available for download only in your home country. To ensure that people get access to your app, you'll need to localize the application for several of foreign markets. This process is not too complicated, but it will give your app a boost in popularity.
7) Reach out to customers.
It has recently been reported that a lot of downloads directly influences the position in the search rankings. It means that for the app to be successful the number of downloads should be high already in the first few days from a release. The easiest way to achieve this result is to get your most loyal customers and friends to get your app during those days.
8) Add a social feature.
A great way to make your app more successful is to incorporate socialization into the app. This method works best with applications that are based on competition, especially games and fitness apps. Allowing users to share their results on Facebook, Google+ or Twitter will get your app the exposure it needs, which will then result in more downloads and higher rankings.
9) Choose a day.
Experienced app developers have noticed that an increase of downloads in just one day can have a crucial effect on the position of the app. Choose one day when your number of downloads will be a lot higher than it usually is, and expect an improved position in the search rankings. It can be achieved by a launch party, a one-day sale, and other effective marketing tools.
10) Don't underestimate the power of screenshots.
Even though screenshots don't directly influence the search rankings, you should still put extra effort into adding informative and vibrant screenshots to your app's description. Demonstrate the way your app works, and customers will find your creation more attractive and trustworthy than competing apps.
11) Mention developers.
If a team of developers helped you design and create your app, crediting them in iTunes Store is usually a good idea. If the developer is known for the quality of their app, Apple and customers will find your application to be more credible. And even if your developer doesn't have a dozen of successful apps in their portfolio yet, you can still mention them, as in the future it will give you both better career opportunities.
12) Put effort into optimization.
It is reported that outside clicks on the app link also influence the position of the application in the ratings. Apple considers apps that get a lot of visits to be generating buzz online, which is always a sign of a noteworthy app. When you write blog posts and update your social media, include the link to the app into the text, which will help you generate interest.
13) Study the results.
Whenever you introduce a change to your marketing strategy or attempt a new method, analyze the results generated by the change. Track sales, download numbers, inspect reviews and ratings from all over the world, and use the knowledge to make your marketing campaign even more effective.
14) Repair bugs.
Most of the 1-star reviews in iTunes Store happen due to bad performance of the apps. Keep track of the bugs and fix them as soon as they're brought to our attention. That way you can minimize the risk of getting a bad review because of the bug, and demonstrate that you take customer feedback very seriously.
15) Release regular updates.
iOS developers have noticed that apps that are regularly updated more likely to gain recognition among users, compared to apps that never get any updates. Since customer satisfaction is extremely important in determining your position in the rankings, make sure that your application gets regular updates and tweaks.
A recently presented inforgraphic shows that January is a kind of "Black Friday" for monetization the apps. The research that was done together with App-Reviews.org provides the information that downloading of apps increased up to 20 percent during the last holiday season. The infographic covers the period from October 2014 till January 2015.
Developers tend to pay more attention to monetizing of the apps with the help of different ads – that will help to enlarge the revenue while holiday season. Here the advice is to try different placements of the ads to find out which variant will be the best for monetizing. But it is also high time to use other effective tools, such as positive app reviews and high ratings, offered by App-Reviews.org.
In conclusion, another good strategy will be to give huge discounts for the paid apps or maybe make them free of charge during this holiday period. Those users who make high spending are to get promotions for this season, but at the same time, other can still get the ads. The provided infographic shows the developers that it is really possibility to earn up to 117 percent profit if to take actions as it is suggested. It is also mentioned that those developers who spend money on app reviews, ratings and downloads have the possibility to gain additional 20 percent profit, comparing with those who don't use them.